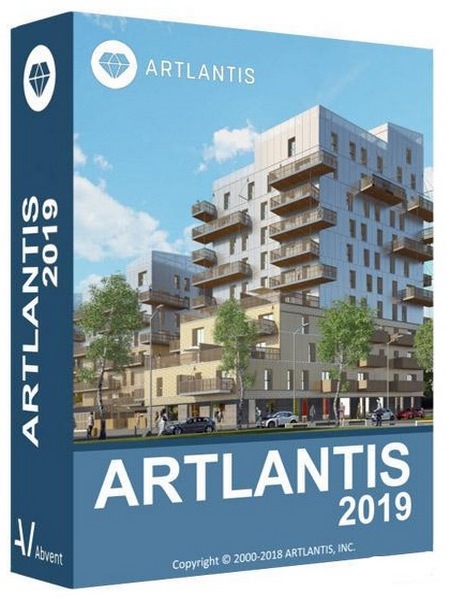 Artlantis 2019 v8.0.2.20738 (x64) Include Patch | Size 247 MB
Release Date
: 2019
Languages
: English / Multilanguage
Operating System
: Windows 7 / Windows 8 / Windows 8.1 / Windows 10
System Type
: 64-bit
A flagship software in VR imagery, Artlantis has conquered nearly 100,000 architects, interior designers, landscapers, urban planners, space planners … in more than 110 countries. Using its own rendering engine, without relying on graphic cards, Artlantis is used by experts, advanced users and beginners, for simulation, presentations and communication, by producing renderings of a striking photo-realism.
Artlantis 2019 unifies in one powerfull application the previous Render and Studio versions, including all their features, offering useful display modes such as perspectives and parallel views and producing images, panoramas, VR objects and animations in very high quality and record time!
Features
-----------
--Interface
Designed with an extremely clear and ergonomic interface, Artlantis is both easy to learn and use. At all times, the necessary tools are at hand near the real-time preview window, which allows you to see the results of each adjustment.
--2D View
In addition to the 3D preview, Artlantis has a 2D window, too, to position cameras or edit sequences, making it easier to create paths or panoramas.
--Viewpoints library
Artlantis makes it possible to save as many viewpoints, in both perspective and parallel projection, as you want, and to edit them at any moment, adjust, set lights, the environment or shaders.
--Postcards
All shaders' customized settings in a viewpoint can be saved for later use. Each scene can be saved in the library as a postcard in which any material setting can be reused with a simple drag & drop onto the surface to be modified.
--Site insertion tool
Essential tool for visualizing the landscape components of building permits, the insertion in an image of the calculated project is a unique feature offered in Artlantis.
The method for calculating the insertion of 3D models within an imported fixed view has been completely redesigned for a simpler and more fluid use, sequenced step-by-step on space recognition settings, immediately displayed in the preview.
--3D grass
Artlantis now has new shaders helping the generation of 3D grass, enhancing the realism of the scene.
--Vegetation tool
Artlantis offers a new tool allowing you to blanket defined zones with a selection of 3D vegetation.
--Media catalog
Large choice of additional tree varieties, as well as characters and vehicles
--Exposure
As default setting, automatic exposure allows you to calculate the appropriate image exposure according to the light spread into the scene.

Buy Premium From Links To Get Maximum Speed , Ability To Complement The Download And No Waiting
Mã:
https://rapidgator.net/file/6c49cff310605b03e4780a7035b76a29/Artlantis.2019.v8.0.2.20738.x64.rar.html
OR
https://nitroflare.com/view/04A54C32D706407/Artlantis.2019.v8.0.2.20738.x64.rar